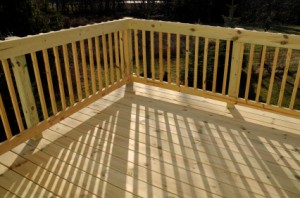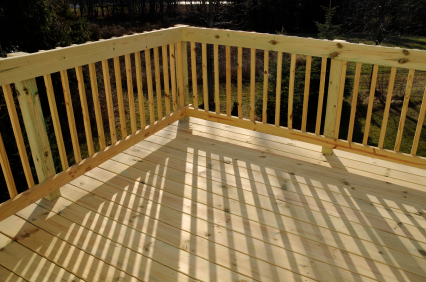 Better Construction, better prices, best warranties on all Decks and home improvement projects.
Decks add value to your home, as well as being a great place to spend time outdoors entertaining or relaxing. Let us help you with designing a custom deck that you will want to spend time on. We will help with ideas that will make your deck more functional and comfortable while fitting in with your house design and landscaping. Our decks are built with the best materials and techniques, and we offer many affordable options. All of our decks come with a five year structural warranty. We also offer deck repair, cleaning, and re-finishing services. Call today for a free consultation on your deck construction project or for any deck maintenance that we can help you with.
Deck Warranty: Our warranties are the longest because our deck construction techniques are the best. All of our structural warranties are for five years and cover any defect in construction. The warranty covers any decking that comes loose, loose railings, deck settling or sagging, support joists, support posts, and stairs. We pay close attention to detail to be sure that your deck will last a lifetime. The only thing that our warranty does not cover is the maintenance. For maintenance, we offer  programs for cleaning, painting or staining, and sealing your deck.
Deck Construction: Each support post is set into the ground on top of a foundation block to prevent settling or sagging from the deck over time. All materials are pressure treated to withstand the Jacksonville and Beaches weather. Framing joists for the deck are spaced at sixteen inches for added strength and to prevent any sagging in the deck. Decks can either be free standing, or attached to the home with a ledger board. When fastening the deck to the house we use masonry anchors or lag screws. We also add more metal hardware and bolts to the frame at all corners and support joists. All decking is secured to the joists with at least 3 inch deck mate weather-proof screws. All railings are double bolted to the frame to keep them from ever coming loose. And, most importantly, we never use nails; all fasteners are screws. We can build any type of rails that you like from photos online or from books.
Deck Materials:
Deck materials must be able to withstand the powerful forces of nature over years of exposure to the elements. Factors such as severe temperature changes, intense sun, rain,  and wind will put any material to the test of longevity. Deck materials must also be strong, and be able to support the loads exerted on it. With the right materials, your deck will give you many years of enjoyment.
Composite decking: Composite decking is considered low maintenance, and is very durable. Composite decking resists the weather and splitting, comes in a variety of colors, and can be fastened in a way that doesn't show screws or hardware. These materials come with a manufacturers warranty, but are more expensive than natural wood products. Composite decking also requires more support joists. One thing to know about composite decking is that it can stain. Please read customer reviews from lowes.com on their composite decking.
Pressure treated lumber:  Pressure treated lumber is ideal for outdoor construction as it has a long, useful life span and is much less expensive than alternatives. Treated wood that has been painted can last more than 40 years. Decks will almost always be constructed using pressure treated wood for the framing materials and, in most of the country, is the predominant material for deck platfomrs and railing. Treated wood meets a variety of essential requirements for this purpose. It is strong, resistant to decay and termite infestation, highly durable, easy to work with, has widespread availability and is inexpensive. Pressure treated lumber is also very easy to clean, sand, paint or re-stain.  Pressure treated wood is my top pick for decking materials.
Cedar: Cedar is a fantastic choice for a deck building material because of its combination of unique properties. It is dimensionally stable meaning that it lays flat and stays straight. Even grain and consistent density make it less likely to warp, cup, or twist. It's fragrant, dark-colored heartwood naturally resists rot and insect infestation in outdoor environments without the need fo preservative chemicals. It has a rich warm aesthetic quality offering a range of natural hues, tight grain patterns, and soft textures. Fresth cut cedar will come in a wide range of honey/peach shades of light brown. When exposed to weather it will change in color to silver gray. Cedars thermal properties allow it to stay cool to the touch in summer heat. The price and availability for different types of cedar wood will vary from region to region. It should be more available and less expensive than redwood and composite decking. We recommend that Cedar should be protected by the use of a stain.
Redwood: Redwood is a remarkable deck material in almost every way; it is very stable, straight, and its heartwood is naturally resistant to wood boring insects and weathering without the use a preservative chemicals. Its fragrant earthy reddish brown heartwood gives it its name. If left unfinished Redwood will initially turn black black and then slowly turn into a silver gray. Its high stability makes it less likely to cup and warp than treated wood. It is prized for its low shrinkage rate, so splitting is minimized.  It is recommended that you use a protective finish with a water repellant such as Thompsons weather seal.
For any questions, please call Lawrence Earley Construction 904-207-0255 – Your Jacksonville Deck Contractor.